Sabin Vaccine Institute Leads Public and Private Sector Fight to Prevent HPV and End Cervical Cancer with Global HPV Consortium Launch in Kuala Lumpur
Mobilizing a transdisciplinary movement to prevent HPV and end cervical cancer.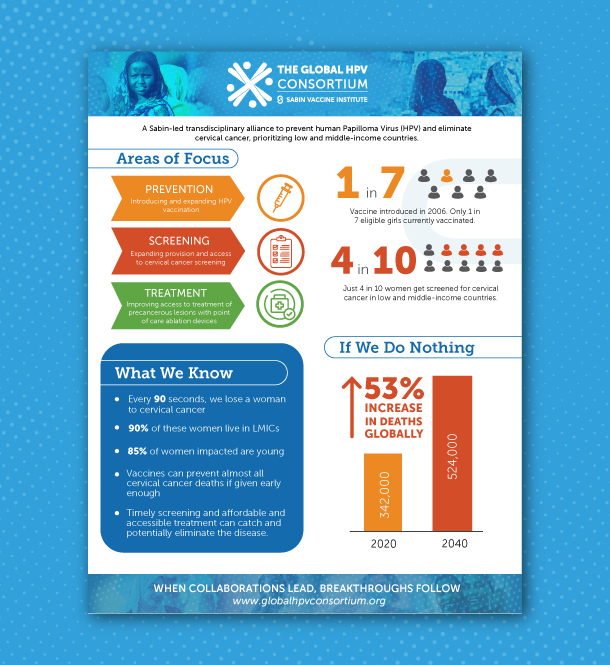 A snapshot of datapoints that underline the need for this Consortium.
Be a part of the Consortium's growing public and private sector collaboration and contribute in a variety of ways to the ongoing efforts to prevent HPV and cervical cancer.
600,000

New cases of cervical cancer annually

340,000

Cervical cancer deaths each year

1 in 7

Eligible girls currently vaccinated
An increased sense of urgency is needed as the world falls behind
Since introduction in 2006, HPV vaccines have proven safe and effective in protecting against infection and preventing cervical cancer. Yet, the burden of HPV diseases continues to rise with an estimated 600,000 new cases of cervical cancer and over 340,000 deaths each year.
To respond to these life-threatening trends, the Sabin Vaccine Institute, as consortium secretariat, along with a diverse, and expanding, set of partners will mobilize action across three pillars: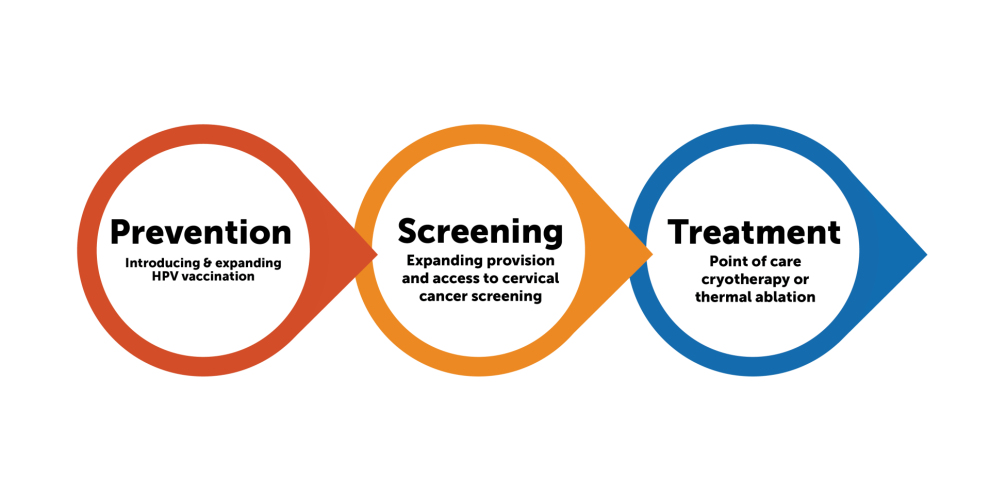 The Global HPV Consortium will be guided by global goals, including WHO's Immunization Agenda 2030 and Cervical Cancer Elimination Initiative:
We're a trans-disciplinary alliance committed to sustained engagement
Independent and unique consortium of diverse multi-sectoral partners
Driving engagement that can last across all levels of governance and implementation
We work at multiple levels: global, regional, country, sub-national, and local
Surfacing the needs, opportunities, and challenges from stakeholders across levels, particularly those who work within local communities so that those closest to the problems are part of the solutions
Amplifying the voices of women, youth, and community-based organizations at the grassroots level
We center efforts on low- and middle- income countries and among vulnerable populations
Promoting the value of integrating vaccination (prevention), screening and treatment of pre-cancerous lesions in communities, especially those at high risk for HPV and cervical cancer
Facilitating fresh thinking around tried approaches and harnessing research, new technology, and data to catalyze positive change
The Action Plan will include impactful and actionable steps to deliver on the promise of protection against the devastating effects of HPV through primary and secondary prevention.
The Plan will:
Be informed by a sustained and dynamic community of global, national and sub-national stakeholders.
Encompass issues from political commitment, financing, policy, through to community-level service delivery.
Promote an on-the-ground alliance and convergence of multi-sectoral actors and institutions.
Spotlight the voices of women, young people, and those most vulnerable to HPV and cervical cancer.
Listen to and learn from communities about their needs and aspirations and activate impactful response.
Spur and scale-up local innovation.
The Plan's actionable framework will deliver on the promise of protection from HPV and cervical cancer by:
Establishing feedback loops from global to sub-national levels for connection and accountability
Dynamically distilling & disseminating best practices
Applying a social & behavioral lens to HPV vaccine acceptance and demand challenges & solutions
Fostering adaptive service delivery and leadership throughout the value chain
Driving investment in innovation & impact
Generating new knowledge and evidence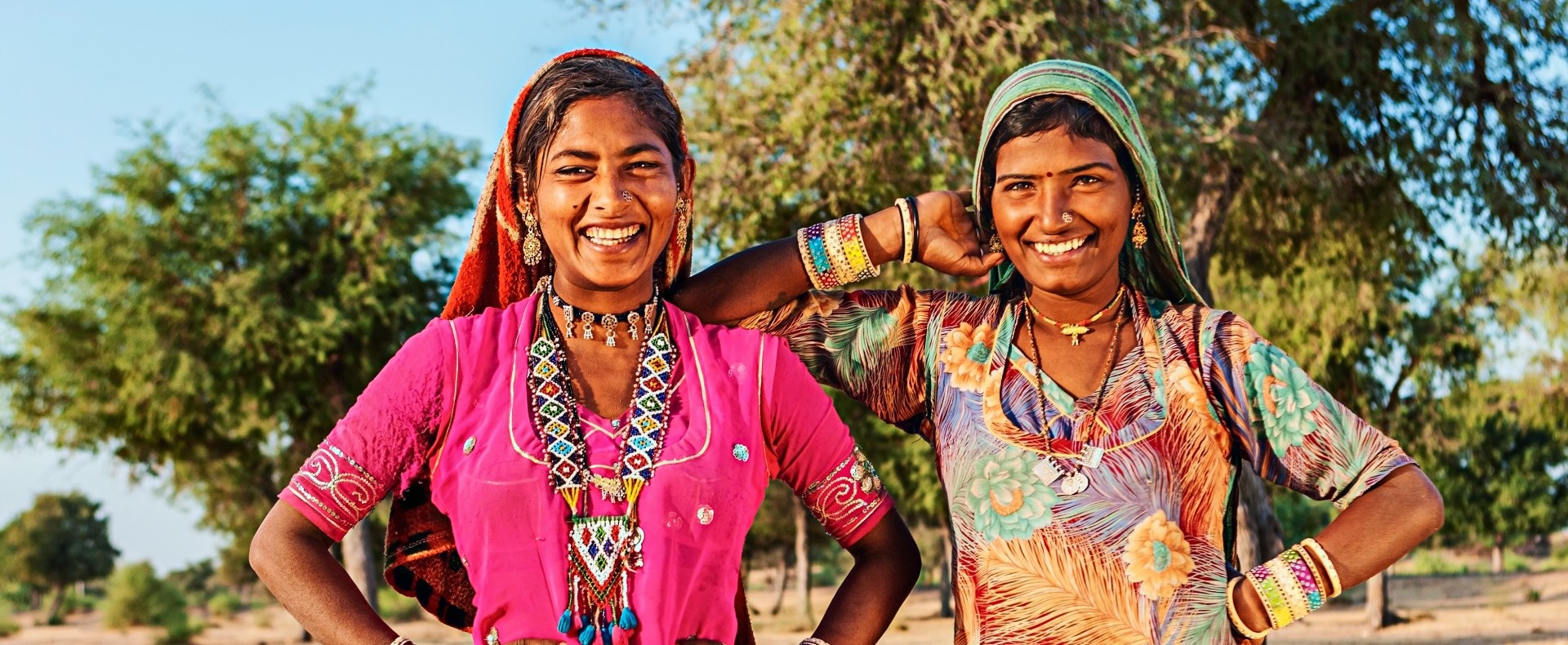 Join the Consortium
Be a part of the Consortium's growing public and private sector collaboration