Dr. Anne Gershon Receives 2013 Albert B. Sabin Gold Medal Award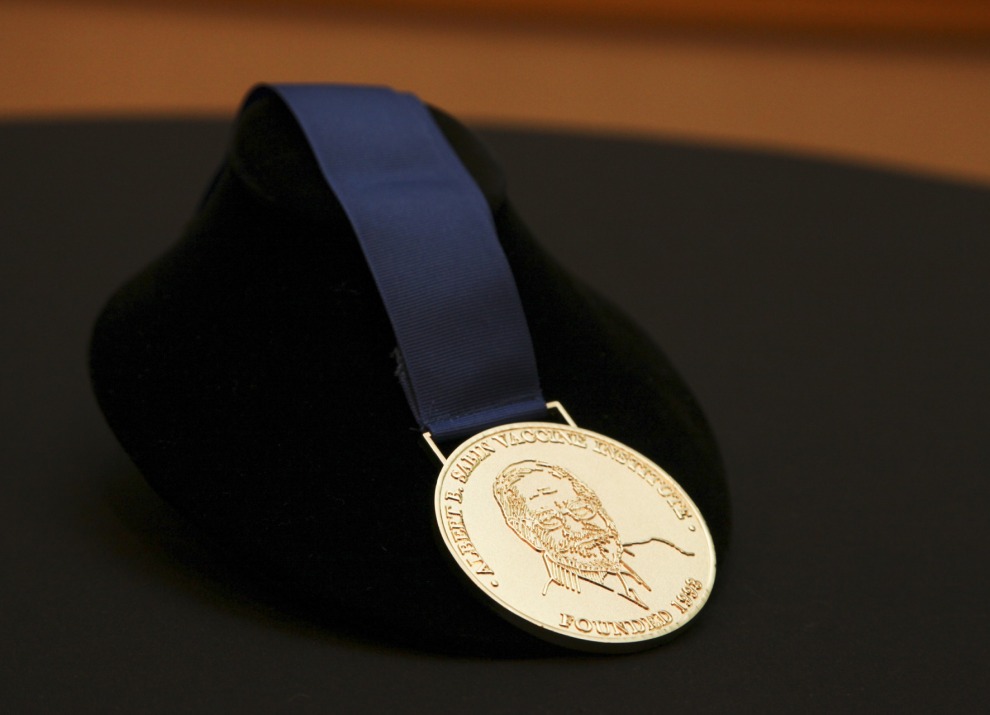 Dr. Gershon Honored for her Pivotal Role in Combating Chickenpox
Washington, D.C. – April 23, 2013 – Today, the Sabin Vaccine Institute presented its annual Albert B. Sabin Gold Medal Award to Dr. Anne Gershon, of Columbia University, for her outstanding research and public health efforts to combat the varicella zoster virus (VZV). Dr. Gershon's research was critical to the widespread adoption of the varicella vaccine, which prevents chickenpox.
"We are proud to present this year's Albert B. Sabin Gold Medal Award to Dr. Gershon for her dedication to scientific research and public health," said Dr. Peter Hotez, president of the Sabin Vaccine Institute. "Her contributions have helped drastically reduce chickenpox infections and resulting hospitalizations for severe cases. Dr. Gershon embodies Dr. Sabin's commitment to improving public health through scientific research."
Dr. Gershon is the director of the Division of Pediatric Infectious Disease and Professor of Pediatrics at Columbia University College of Physicians and Surgeons, a position she has held for the past 26 years. Her research, which included examining the epidemiology, diagnosis, immunology, latency, prevention and treatment of VZV, played a crucial role in the final steps of the vaccine's licensure and broad public use. Dr. Gershon continues to study the safety and efficacy of varicella vaccine, including the growth and pathogenesis of VZV in cell culture and latency of VZV in humans and animal models.
"Dr. Sabin dedicated his career to treating and preventing some of the most pervasive health problems in the world," said Dr. Gershon. "I am truly honored to receive this prestigious award and I hope that our work will continue to honor Dr. Sabin's legacy as we build upon VZV research to treat and prevent other widespread infectious diseases."
Chickenpox is a highly contagious, airborne infection that can be spread via contact with an infected person. Symptoms can include irritability, loss of appetite, aching muscles and headache, especially in adults. This is followed by the characteristic blistery itchy rash on the head, chest and back, fatigue and fever that can last approximately one week. Complications can include bacterial infection and encephalitis. Later, the same virus can re-emerge from dormancy in the nervous system and cause shingles.
Before 1995, when the varicella vaccine came into widespread use in the United States, chickenpox affected about 95 percent of the population, leading to thousands of hospitalizations and about 100-150 deaths a year. While only 5 percent of reported cases of varicella are in adults, adults account for 35 percent of the deaths from the disease.
Ten years after the vaccine was recommended in the United States, the U.S. Centers for Disease Control and Prevention (CDC) reported as much as a 90 percent drop in chickenpox cases, a varicella-related hospital admission decline of 71 percent and a 97 percent drop in chickenpox deaths among those under 20.
This year marks the 20th anniversary of both the Sabin Vaccine Institute and the Albert B. Sabin Gold Medal Award, which recognizes a distinguished member of the public health community who has made extraordinary contributions in the field of vaccinology or a complementary field. The award commemorates the legacy of Dr. Albert B. Sabin, who developed the oral live virus polio vaccine that is widely heralded with contributing to the near eradication of polio worldwide.
Dr. Gershon will be honored at a ceremony held in conjunction with the National Foundation for Infectious Diseases (NFID) Annual Conference at the Hyatt Regency Baltimore in Baltimore, Maryland.
###
About Sabin Vaccine Institute
Sabin Vaccine Institute is a non-profit, 501(c)(3) organization of scientists, researchers, and advocates dedicated to reducing needless human suffering caused by vaccine preventable and neglected tropical diseases. Sabin works with governments, leading public and private organizations, and academic institutions to provide solutions for some of the world's most pervasive health challenges. Since its founding in 1993 in honor of the oral polio vaccine developer, Dr. Albert B. Sabin, the Institute has been at the forefront of efforts to control, treat, and eliminate these diseases by developing new vaccines, advocating the use of existing vaccines, and promoting increased access to affordable medical treatments. For more information please visit www.sabin.org.