Vaccine Developer Albert Z. Kapikian, MD, Awarded the Sabin Gold Medal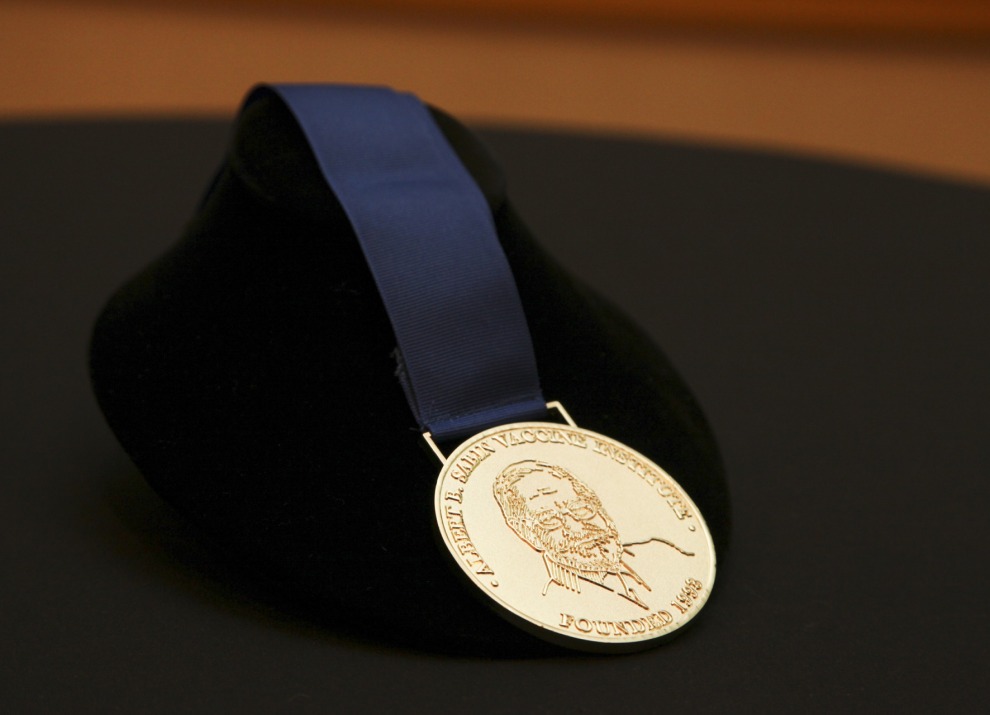 NIH Officer John La Montagne, PhD, Recognized with Posthumous Award
NEW CANAAN, CT— Albert Z. Kapikian, MD, physician, medical pioneer and viral diseases researcher, received the prestigious Albert B. Sabin Gold Medal at a ceremony on May 10, 2005. Kapikian is the 13th recipient of this recognition, awarded annually by the Sabin Vaccine Institute to honor achievements by vaccinologists and infectious disease experts. The ceremony was held in conjunction with the National Foundation for Infectious Diseases (NFID) Eighth Annual Conference on Vaccine Research at the Baltimore Marriott Inner Harbor in Baltimore, Maryland.
Kapikian's career of more than 47 years, with groundbreaking medical research contributions, is distinguished by the development of the first licensed rotavirus vaccine. "Albert Kapikian's contribution to mankind through the field of vaccines is truly extraordinary," said H.R. Shepherd, chairman of the Institute. "It takes a great vision and dedication to achieve such progress for humanity."
In the 1950s Kapikian began studying the epidemiology and causes of various viral diseases. He is renowned for pioneering studies using electron microscopy to discover and characterize viruses causing major diseases in humans. In 1972, Kapikian identified the Norwalk virus, the first virus associated with acute epidemic gastroenteritis, gaining recognition as "the father of human gastroenteritis virus research." In 1973, he and two colleagues identified the virus that causes hepatitis A. In addition, he also became the first in the United States to detect and visualize human rotavirus, which was discovered by others in Australia. He dedicated his efforts to studying this leading cause of severe diarrhea in infants and children, which accounts for more than 500,000 deaths annually, predominantly in the developing world.
Working with the National Institute of Allergy and Infectious Diseases (NIAID), Kapikian led a nearly 25-year effort to develop an oral rotavirus vaccine. The team's neo-Jennerian rotavirus vaccine strategy involved mating outer proteins from different human rotavirus strains with a monkey rotavirus that is attenuated (weakened) for humans and combining the resulting hybrid viruses into one vaccine. From a single-strain vaccine in 1984, the vaccine was gradually made protective against the four most important clinical strains of rotavirus. In 1998, this vaccine became the first rotavirus vaccine licensed in the United States.
Kapikian graduated from Cornell University Medical College in 1956 and in 1957 joined the National Institutes of Health (NIH) as a commissioned officer of the U.S. Public Health Service. In 1967 he was appointed head of the Epidemiology Section of the Laboratory of Infectious Diseases, a position he holds today as a member of the Civil Service. He has received numerous honors and is the author of many scholarly papers.
The ceremony also featured a special tribute to the late John R. La Montagne, PhD, who served as NIAID deputy director from 1998 until his sudden death this past November. During his 30-year career at NIH, La Montagne was a noted scientist and an influential leader in the field of infectious diseases. His contributions to domestic and global efforts to fight emerging and re-emerging infectious diseases included biodefense. His longtime colleague, Regina Rabinovich, MD, MPH, director, Infectious Diseases, Bill & Melinda Gates Foundation, presented the special award to his widow, Mary Elaine Elliot La Montagne.
The mission of the Albert B. Sabin Vaccine Institute is to save lives by advancing development of new vaccines and increasing immunization rates throughout the world. Founded in 1993, the Institute pursues Dr. Albert Sabin's vision of a world protected from disease by vaccines.